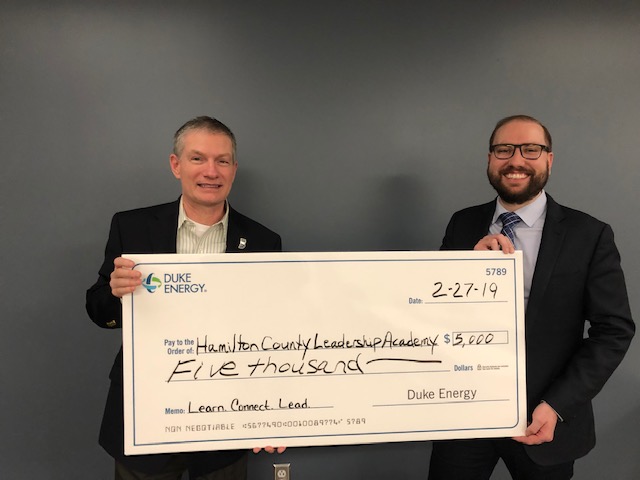 Organization will use grant to build additional capacity and expand community impact. 
NOBLESVILLE, Ind. (April 8, 2019) – The Hamilton County Leadership Academy (HCLA) has received a $5,000 grant through the Duke Energy Foundation. The funding will be used to support HCLA's in-depth community leadership curriculum and expand the program's community impact initiatives.     
HCLA's flagship community leadership program has graduated over 700 leaders since its inception in 1991. The program offers immersive curriculum to deepen participants' knowledge of Hamilton County and provide them with the tools and resources they need to positively impact their community. Each person in the program is required to join a project team addressing a key community issue during their 10-month program experience.
"A key part of our curriculum is designed to give participants the tools and experience required to identify opportunities, address challenges and develop solutions to help strengthen their community," remarked John Robbins, Executive Director of the Hamilton County Leadership Academy. "Everyone learns about group work in school or has project experience in the work they do, but very few understand what is required to mobilize community leaders and inspire them to work on a pressing community issue. This grant will allow us to continue to inspire our participants to dream big and it will allow us to encourage alumni to continue to focus on community impact well after they have left our program."
Beyond the financial support provided by the grant, Duke Energy will continue to support the mission of HCLA through board service, committee work and providing access to Duke Energy facilities, staff and partners.
 "The Hamilton County Leadership Academy is an organization focused on making the county a strong, thriving and connected community," explains Mark LaBarr, Community Relations Manager at Duke Energy. "We know great people are at the heart of great communities, which is why we are invested in HCLA's success. HCLA helps leaders make an impact in their community. We're excited to help the organization in growing its impact."
HCLA welcomed its 28th class of community leaders in August. These leaders will showcase their community impact projects in June 2019 as part of their celebration and graduation from the program.