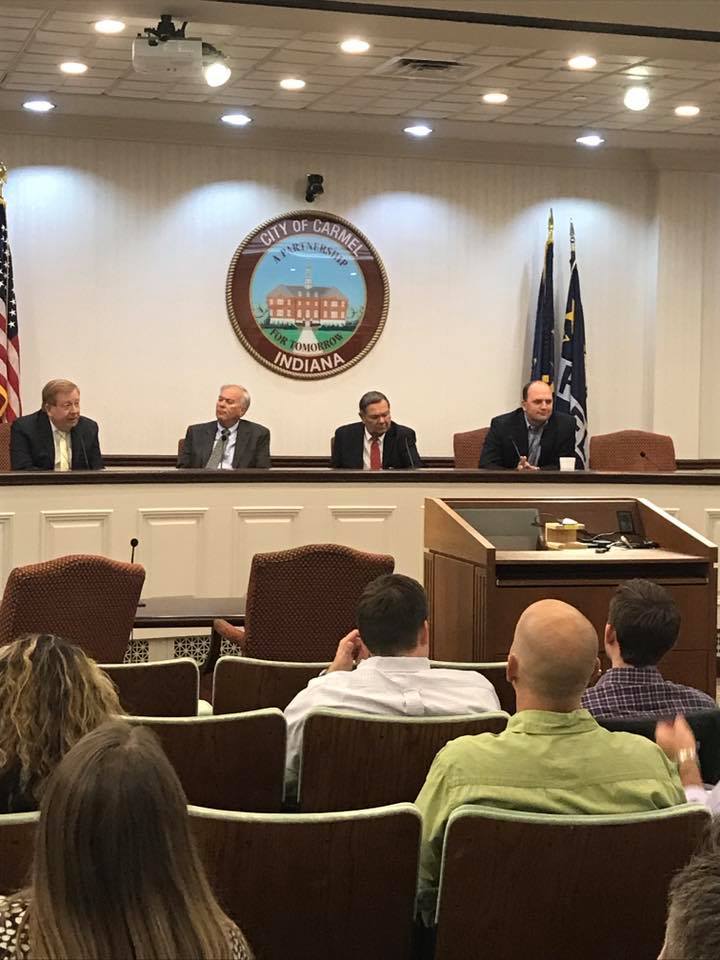 This week the Class of 2019 will settle into their first of nine class sessions designed to deepen their knowledge of Hamilton County. The County & Municipal Government Day will take place at Noblesville City Hall on Thursday, September 13. Class participants will have the opportunity to meet and learn from local elected officials, understand county, municipal and township government structures, and participate in a mock city council meeting.
"The County and Municipal Government Day is a great way to introduce the class to HCLA curriculum and is consistently a favorite among participants," explained John Robbins, Executive Director of the Hamilton County Leadership Academy. "This format provides the class with an opportunity to engage with and learn from an incredible cross-section of community leaders."
Every year HCLA seeks to expose class participants to a variety of county leaders throughout the program. This year participants will kick off with local government attorney Ann O'Hara (Class of 2006), establishing a strong foundational knowledge for the day.
Delaware Township Trustee Debbie Driskell and Danielle Tolan, Washington Township Trustee, will then explain the wide array of services provided by townships. Craig Penwell (Class of 2009), Cicero Town Council, and Mitch Russell, Arcadia Town Council, will also share perspectives from town government.
Highlighting the role of county government will be county commissioners Christine Altman (HCLA co-founder) and Mark Heirbrandt.
One of the key features of the day is a mock city council meeting which will be led this year by Noblesville Common Council President Chris Jensen (Class of 2015). This exercise gives participants first-hand experience navigating the council process. 
"As an HCLA alumni it's great to be able to come back to the program and interact with the class," said Jensen. "It's exciting for me to share my experience in the Noblesville Council with this group of leaders. I hope they walk away from this with a new perspective and appreciation for the role a city council plays in municipal government."
The session closes with a one-of-a-kind panel discussion featuring Westfield Deputy Mayor Todd Burtron, Noblesville Mayor John Ditslear, Fishers Mayor Scott Fadness and Carmel Corporation Counsel Doug Haney.
HCLA will continue next month with Planning & Development on Thursday, October 11 in Westfield. This session is a deep-dive into growth, land-use and development opportunities, and issues and challenges facing the county.